Bug Themed Speech Therapy Lesson Plan
Apr 26, 2023
Spring is here and using a BUG theme speech therapy lesson plan couldn't be better timing. Have fun using this speech and language lesson plan in your sessions this season!
Activity #1: Choose any "bug" themed book you can start your session off with. Pair the story with bug play-props to make the story interactive and engaging for your students. One of my favourite series to use with my students is the "That's Not My Series" so "That's Not My Bee" works perfectly for this theme. You can target attributes (e.g., rough, soft), following directions (e.g., touch the bee's wings), spatial concepts (e.g., the mouse is behind the bee), symbolic sounds (e.g., buzz), etc. Grab the resource HERE.
Activity #2: Play-and-Go activities!
Needing a grab and go activity you can use all spring season?! You need to check out one of Anna's most recent resources.
Make your speech therapy sessions fun and engaging using these engaging interactive scenes and games! This set includes 4 popular themes: Spring, Bugs, Gardening, and Valentine's Day! This quick prep resource features child friendly images, making this activity perfect for the busy SLP who wants to keep their preschool and kindergarten students learning and engaged for the entire speech therapy session! Grab this resource HERE!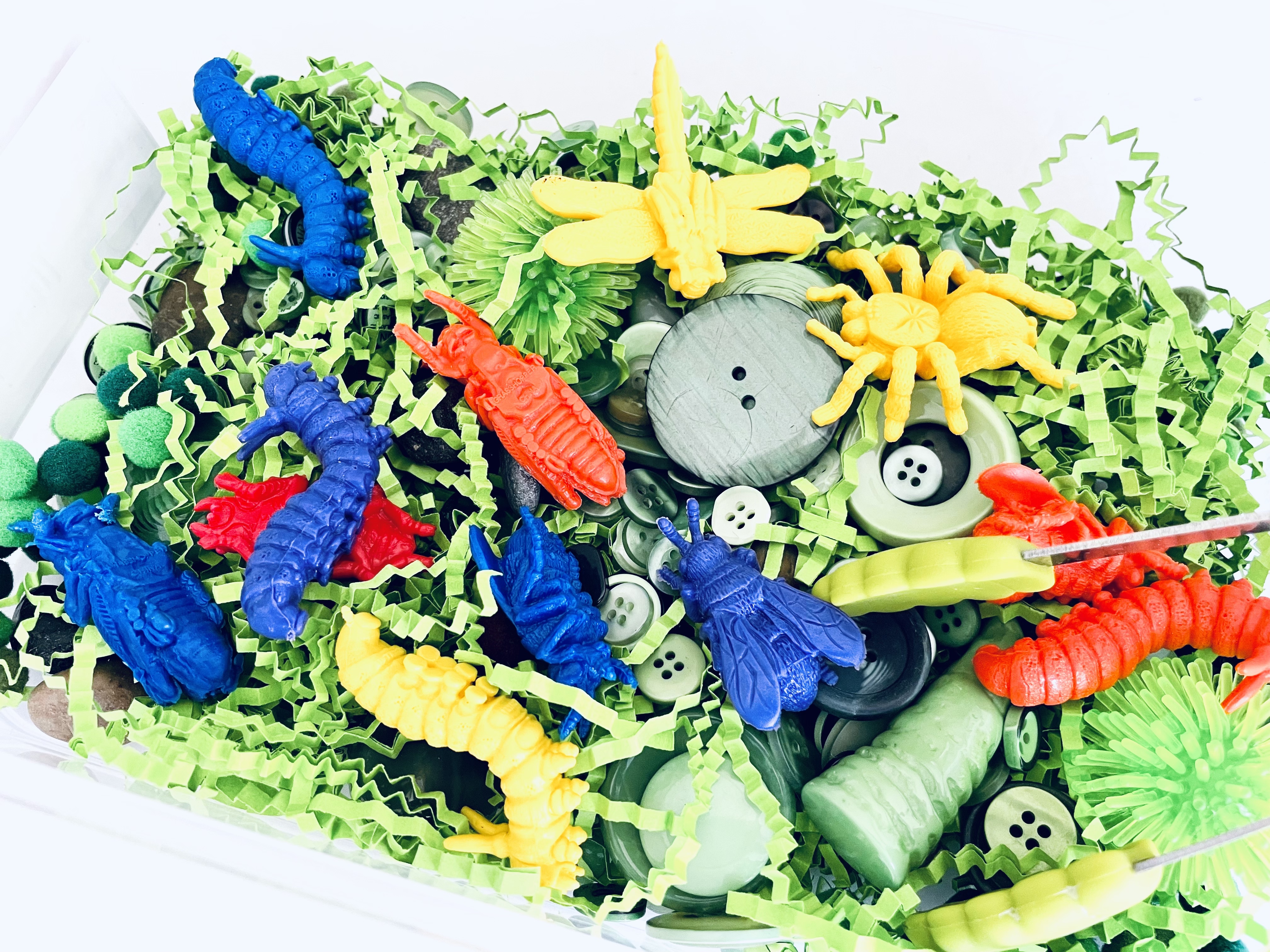 Activity #3: Bug-themed sensory bin!!
Sensory bins provide NUMEROUS ways to target speech and language skills while working on them functionally and in a motivating/engaging way for your students. Grab some shredded paper, pom-poms, buttons and stones to make a bug paradise. Use plastic bugs, mini erasers, or picture cards to work on describing, syllable segmentation, themed vocabulary, following directions, expanding utterances, compare & contrast, basic concepts and spatial concepts.
Activity #4: Painter's Tape Spider Web. Use painter's tape to create a spider web on the wall or floor in your therapy space. Have your students pick a bug from your sensory bin or find bugs around the room and fly them over to the spider web. You can work on following directions (e.g., first stick a caterpillar, then stick a beetle to the web), s-blends (e.g., stick, stay, stuck, spider, spot, spy, space), syllable segmentation (e.g., caterpillar has 4 syllables), describing (e.g., describe the bug with 3 descriptors before sticking it to the web), spatial concepts (e.g., ON the spider web, TOP of the web, BOTTOM of the web, BESIDE the web, UNDER the web). You could also play rescue and have the bugs stuck beforehand and then play RESCUE the BUGS before the spider comes back while working on the skills above.
Are you looking for more lesson plan ideas and ways to use play in your sessions??? Our Play Based Speech Therapy Course provides you with hundreds of therapy ideas you can implement in your therapy sessions immediately! Join our email list to receive free lesson plans, therapy ideas, course information and discounts! Check out the Play Based Speech Therapy Course's next launch date HERE!
Get on our Email List!
The waitlist will give you access to an Exclusive Pricing, freebies, and Giveaways!